At Aretec, innovation is at the core of everything we do. As a leading tech company, we specialize in designing and developing cutting-edge AI solutions, cloud services, and digital transformation strategies that empower businesses to thrive in the digital age. With a passionate team of experts and a commitment to excellence, we transform data into actionable insights and create tailored solutions for diverse industries. Explore our journey, values, and vision as we continue to drive innovation, deliver excellence, and shape the future of technology.
At Aretec, we are the trailblazers of innovation. We're a dynamic team of tech enthusiasts dedicated to pushing the boundaries of what's possible. Our passion lies in crafting AI-driven solutions, harnessing the cloud's power, and orchestrating digital transformations. With a history of excellence and an eye on the future, we stand at the forefront of the tech industry.
We are the visionaries who see data as the world's most valuable asset. At Aretec, we specialize in extracting meaningful insights from data, enabling businesses to make informed decisions. Our journey is defined by a commitment to security, compliance, and innovation. Join us in shaping a data-driven future where possibilities are limitless.
The provenance of Aretec were the vistas of the Sierra Nevada mountains, overlooking Lake Tahoe. Getting to this place requires a steep climb, up twisting roads, around large granite formations and through shadowed forests. The journey is rewarded when the trees thin out, the sky opens up, and before you is the sparkling clarity of the most beautiful mountain lake you will ever see.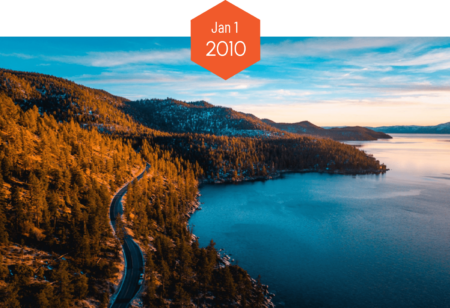 Why We Started: The Inspiration
The Journey
Beginning in 2010, Anthony Rivera and Roby Luna made this trip many times. Having been brought together to work on a contract in the Reno/Tahoe area, their mutual work was in developing IT modernization solutions for a Department of Defense (DoD) customer who had significant challenges with reporting mandates for a number of different logistical initiatives. Their trips to Lake Tahoe inspired deep thought regarding the development of solutions that could help federal agencies make informed decisions based on dormant data. The lack of solutions that enabled evidence-based decision making and advanced data visualization presented a unique opportunity to positively impact these agencies. This void served as the catalyst for the creation of Aretec.
Since 2013, Aretec has served the United States government (Securities Exchange Commission [SEC], Defense Logistics Agency [DLA], Army National Guard [ARNG], Executive Office of the President [EOP]) as a federal contractor. The company holds a niche market position through the development of data science platforms that streamline workflows from ingestion to deployment. Using open source tools, open standards, and market specialists, we have demonstrated the ability to leverage and integrate all of your data sources to extract the most valuable insights. This combination of domain knowledge and data science expertise has enabled Aretec to develop production solutions that have revolutionized the value of data for our existing customers.
The Knowledge
The Data
At our core, we believe that data will power every industry, community, and country. Our proven ability to provide organizations with the right information, at the right time, for intelligent decision making fuels our company. Data science alone is not a holy grail for decision making. Data science combined with Aretec's proven technical expertise is.
As one of the founding members of Aretec, Anthony drives the company's vision, mission, and overall direction
A founding member of Aretec, Roby oversees the technical vision for the company.
Steve has been with Aretec since 2014, serving as our Executive Vice President and Executive Program Manager for various programs
Richard
Ramirez
Business Relationship Manager
Debbie
Griffith
Executive Corporate Director
Aretec, Inc. Ranks on the 2022 Inc. 5000
Annual List
Today, Inc. revealed that Aretec, Inc. has ranked on their annual Inc. 5000 list, the most prestigious ranking of the fastest- growing private companies in America. The list represents a one-of-a-kind look at the most successful companies..
Knowing About AI and Automation for Digital Transformations
Artificial intelligence and automation are
transforming businesses in the United
States, and contribute to economic
growth via to the ability to enhance
productivity. More and more businesses
and federal agencies are moving…